key appointments
---
Vineyard & Viticulture
---
Cellar Door & Sales
---
Bottling Line
---
Packaging & Logistics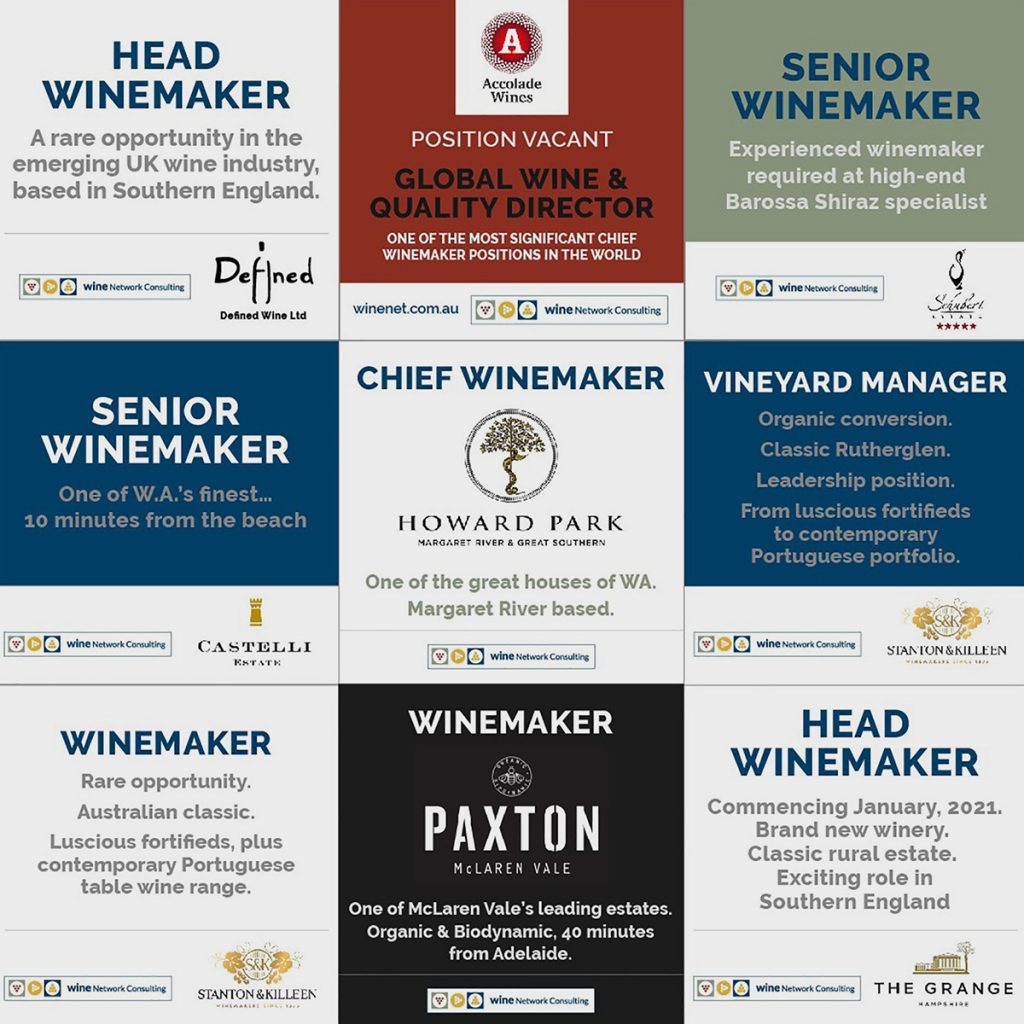 WNC is now the leading recruitment group for the Australian Wine Industry.
Our extensive global network provides unique access and exposure to the broadest range of high calibre candidates.
Our consultants' decades of operational experience and fastidious investigation and assessment, allows perceptive matching of the best and most appropriate candidate to each business.
'Employing the right people is pivotal to the success of every business……poor employment decisions are costly and damaging.

Wine Network Consulting are my 'go-to' recruiters, when I don't want to go through the arduous process of recruitment or to make any mistakes. They are highly respected industry professionals, extremely well connected and they understand what I want and need in any key winemaking or viticultural position.

WNC do everything for you, from advertising through to filtering out the best candidates, reference checking and then introducing only a short-list of the most suitable for your selection.

I am extremely happy with our new winemaker and I will seek Wine Network's assistance for any future, key roles at Stanton & Killeen. They are amazing.'

Wendy Killeen, CEO
---
'I would not describe Mark O'Callaghan and his Wine Network Consulting team as traditional recruiters… And that's a good thing!

We contacted Mark and team because of their extensive network. It's one thing to put an ad online, but we needed to uncover the best talent in any region of Australia, which they quickly did.

Finding candidates is one thing, but interviewing them and reference checking them to ensure they are the 'real deal' and a great cultural fit, is quite another. The team's ability to pick up the phone and reference check was second to none and gave us great confidence that the candidates were right for us.

We have been extremely satisfied with the successful recruitment of both a new Winemaker and Vineyard Manager.'

Matt Fowles, CEO Fowles Wines
Key services provided:
Position description & advertisement copy
Advertising placement
Identification & approach
Application & candidate management
Preliminary interviews & short-listing
Reference checks
Psychological testing