By Mark O'Callaghan
Managing Director, Wine Network Consulting, Healesville, Victoria. Email: mocallaghan@winenet.com.au
---
Mark speaks to winemakers to tap their experiences with oak vat fermentors and storage tanks, new generation concrete tanks and large format oak foudres.
Introduction
In recent years there has been growing interest in what might be described as alternative or non-mainstream storage and fermentation vessels — assuming stainless steel and oak barrels are mainstream. We (the wine community) are all perfectly familiar with oak barrels, and stainless steel was probably one of the most important advances in wine quality and safety of the 20th century. So why the interest in re-winding the tape?
Wine storage has come a long way over the last 8000 years, from casks or amphorae lined with pitch to wooden vats, enamel coatings, concrete tanks (with or without various linings) to where we are today. Over the years, form usually followed function and that was usually to maximise storage space and transport as effectively and affordably as possible. Fortunately for us, we live in an era where we can afford to explore these things for their effect on wine style and texture, rather than cost. In particular, the vessels that have piqued my interest most have been oak vat fermentors and storage tanks, the new generation of concrete tanks and large format oak foudres.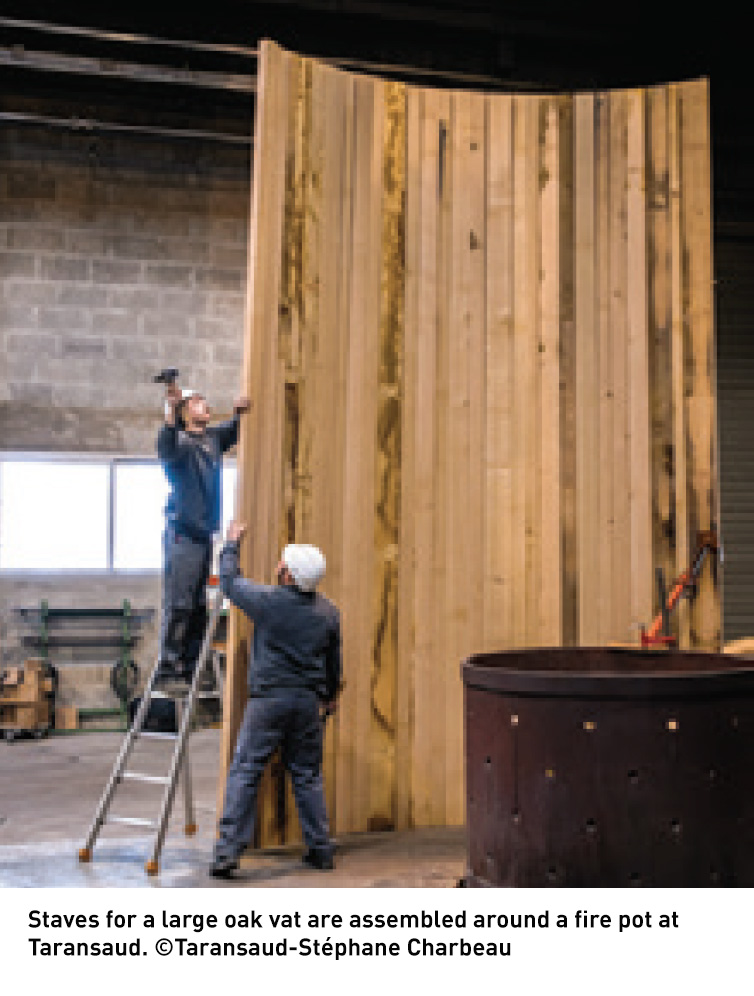 For an ostenibly rational — and occasionally cynical — chap such as your correspondent, a review of articles about the benefits of non-mainstream vessels proved as exasperating and dispiriting as it was predictable. Sadly, most of what passes for coverage of the topic reads more like a series of quasi-religious assertions and non-sequiteurs that would make Copernicus roll in his grave. I was tempted to include ceramic eggs in this piece but when I started reading about the sacred geometry and golden ratio of the egg design I could not bring myself to do it.
With most of this material having the logic and intellectual rigour of a Monty Python witch trial, it was discarded in favour of interviewing winemakers and a cooper I know, trust and respect for their drive and focus. While the precise chemistry questions may not yet be answered, some of the best winemakers in the land have been experimenting with these things and like what they see.
WHY?
Seeking a little background on the non-stainless renaissance, so to speak, Nicolas Tiquet-Lavandier, general manager of Taransaud, was kind enough to speak to me during his family holiday in the south of France.
"Our business was born through making storage for spirits in Cognac, but it couldn't all be in barrels so we really started on bigger [oak] tanks in the 1950s. Then In the 1970s, the producers of foudre and oak tanks really suffered because stainless became so popular," Tiquet-Lavandier explained. Some areas such as the Rhône and Northern Italy have never lost interest however.
From there, Taransaud has seen a shift and worked on some impressive projects. "It is a trend that is coming back and we're building lots of foudre for Germany, Spain and Italy but it is just getting started in the USA. We also installed that massive cellar at Mondavi — 56 180hL fermentors — and when they launched in 2003, that was such a show!" Tiquet-Lavandier said. As for more contemporary international trends, "the average now is 30-50hL because people want to keep parcels separate and, frankly, the adoption also depends on the economic health of the market". With a laugh he adds: "In Bordeaux wine producers like to believe they are the best, of course, but in the Napa, you cannot help but be impressed with the quality, the amount of energy and dedication. They really focus on new developments."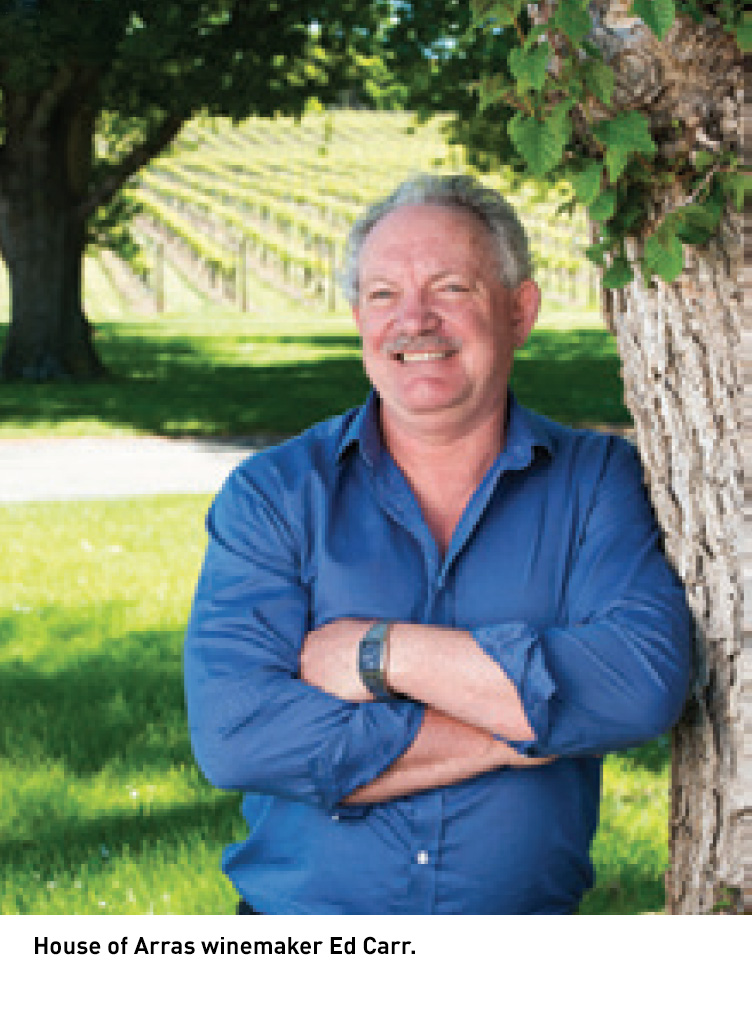 For a take on the role of (very) large format oak in sparkling wine production, I was lucky enough to speak to House of Arras winemaker Ed Carr — a former boss of mine, mentor and a winemaker with a trophy cabinet to rival David Morris of Rutherglen. In his formidable portfolio of sparkling wines, it has been central to refine the reserve wine program.
"When we did reserve wines in stainless [steel], they would go 'tank stale' and we never liked that. However, when you hear about houses like Charles Heidsieck, they're doing the exact opposite and going back to large tanks. We started off with barriques but they went blousey and flat. We also tried some stainless barrels and didn't get the bagginess but they did go reductive, so we've ended up working with foudres," Carr said.
The considerations in red winemaking are a little different to maturing sparkling reserves, of course, so for thoughts and observations on this aspect, I managed to speak to two more of Australia's best winemakers: Tom Carson, chief winemaker and general manager of Yabby Lake and Heathcote Estate; and Steve Flamsteed, chief winemaker at Giant Steps. On the 'why' question, Carson had seen foudres around some of the great wineries of the world, but had something more specific in mind for his own wines.
"Initially, we wanted large oak for maturation of Heathcote Shiraz but didn't want to put all that money into large foudres. We wanted to ferment in them as well," Carson said.
When Flamsteed first looked at them, he had a few things on his mind too. "In the Yarra during autumn, anything can be better than uninsulated stainless [steel]. It just gets too cold and we've found ourselves doing more warming than cooling," Flamsteed explained. "I'd heard a few claims about colour fixing but really, that wasn't it. On top of looking at texture and style, there were some quite practical things behind it too. The real clincher was that we have this huge space — maybe even half the winery — that's only used for fermentation. It sits idle for nine months and we were getting tight on barrel space. I was really keen to look at them for maturation too."
The move by some winemakers back to concrete has intrigued me after spending a lot of time working with it early in my career — albeit with wax-lined tanks. These were dreadful for hygiene, efficiency and safety, so I was always going to take some convincing. For that, I went to one of the best sources — Sandro Mosele, former chief winemaker with Kooyong and Port Phillip Estate. With decades of high-end winemaking behind him and now also importing concrete tanks to Australia, he knows it better than most.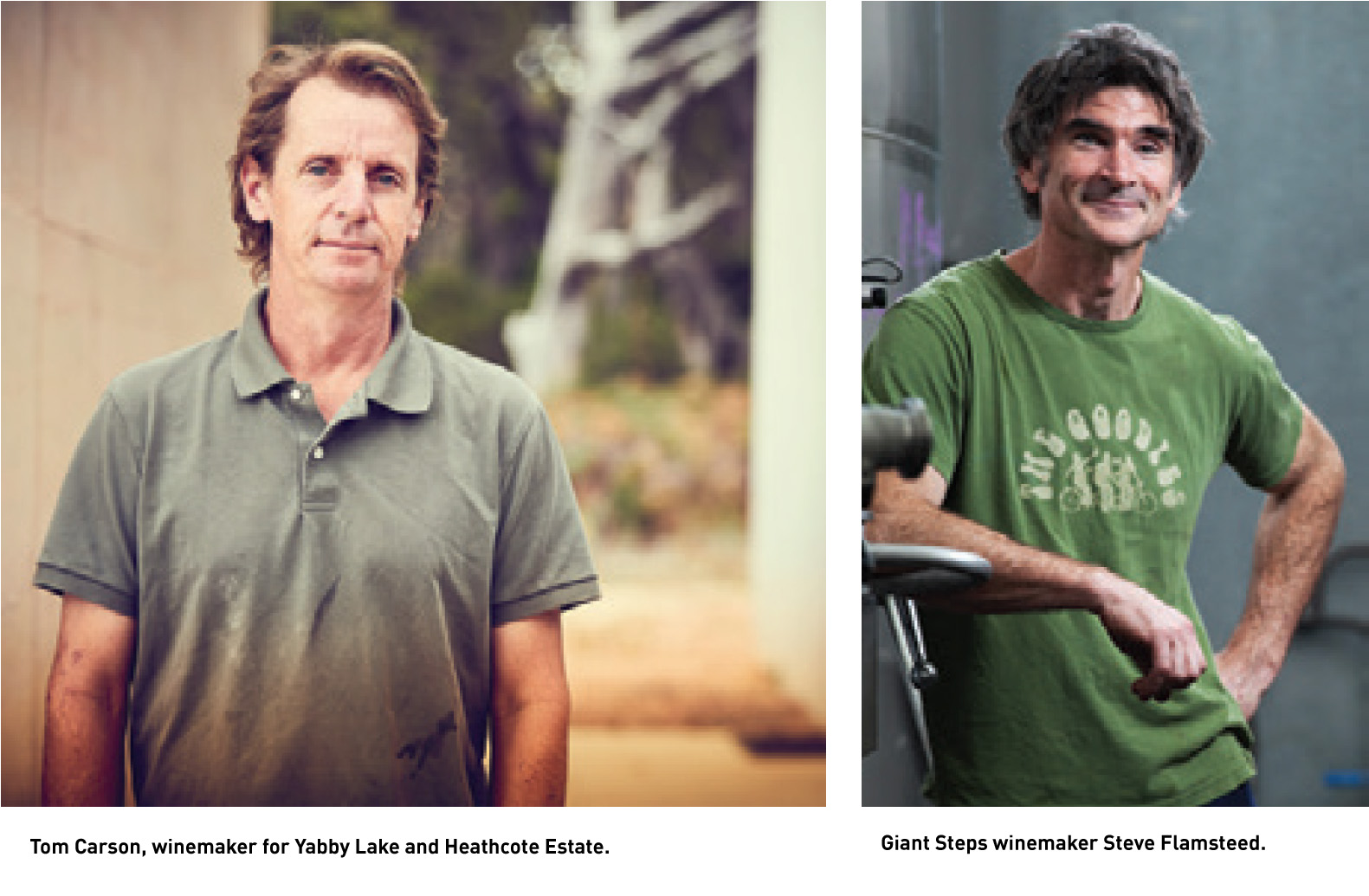 "Alberto Antonini introduced me to Nico Velo a few years ago and I went after them because I wanted some tanks for myself. I certainly didn't set out to start an import business!" Mosele said.
After wondering whether the interest was simply a nostalgic yerning — like vinyl records — Mosele is adamant there is more to it than that.
"The modern tanks are totally different to concrete from years ago which was basically the same as what you have in your driveway. These are made using river pebbles instead of traditional aggregate and the cement is from very specific mines in Greece and Italy. The render on the internal surface is different too, so there are none of the old issues with calcium, copper or iron."
Paul Bridgeman, Levantine Hill winemaker and friend of mine, currently has some Nico Velo concrete tanks en route for installation in the new Yarra Valley winery. When asked why he is giving them a go, his interest is in texture, style and complexity.
"The wines I love of, say, the Rhône or Italy have this element of gravelly/granitic/rusticity about them that gets me a little bit excited. I'm keen to see if concrete is a way to get that and, if not, it's certainly something to build more complextity. I'm also looking to increase savouriness with more than just using whole bunches — getting that level of earthiness without having to push the stalkiness too far. Don't worry, I'm not into fairy dust and I get that there's not a tremendous amount of science behind it, but we will certainly have something other than just buying another inert vessel," Bridgeman said.
At the other end of the country in Margaret River, Travis Lemm at Voyager Estate has been working quite methodically with concrete for several years now. His interest was piqued in Bordeaux just as some new Merlot selections were starting to mature in the vineyard at home. "Cheval Blanc have that famous Eiffel shape and while there was a certain amount of 'if it's good enough for them…' there was more to it than that. The shape was interesting too. I was looking at the way they were narrower at the top, creating a thicker cap, therefore more submersion in the ferment and I was keen to find out what effect that would have on tannins."
SO WHAT?
Although it is naiive to dismiss the aesthetics as irrelevant, what matters are the observations about wine style, quality, texture and fruit expression.
In Ed Carr's reserve wine program he has been very happy with the results. With the foudres out-performing the other methods, he has been buying 2.5kL foudres for each of the last few years. Asked specifically about how the wines behave, it is simply about wine condition. "We just find the wines are bright and fresh while ageing, so we will continue with this while we build our reserves. The foudres certainly seem to fit the bill for us but when you look at the big (Champagne) houses, you see tanks, small oak, large oak, magnums, you name it. Everyone has a different view." Results from the oak vat fermentors seem to be winning hearts and mouths too. Carson is very happy with what he's been seeing. "The slight conical shape at the top really allows you to lock down the headspace when you first put fruit in. That's not exclusive to oak fermentors, of course, but it really works well. There is also the insulative effect of the wood too and we like the effect at the end of a ferment — that last 20-30g/L of sugar over the last few days holding around 28-30°C. Compared to an uninsulated stainless open fermentor, it holds that [temperature] really well, plus the cap stays fresher," said Carson.
When it comes to the effect in the glass, those ferment properties seem to be paying dividends. "We find we get nicer tannins and better integration," Carson continued. "It wasn't affecting colour at all and when we looked at stainless open fermentors versus wood, there was more completeness to the tannins and the wines overall. They are finer and silkier. I mean, sure, they're just our observations but we've been using them since 2014 so we've had plenty of vintages to play with them. We're phasing out all of our static fermentors and we now put all our best fruit through them." Steve Flamsteed's observations about them as fermentors are similar and he is also a fan of them for maturation.
"They're really nice storage vessels. Maybe not as good as puncheons but they're the next best thing. Compared to tanks, the wines settle and clarify beautifully which is a big part of why we don't filter reds," Flamsteed said.
He does caution that they require much more focus and care however.
"I'd heard of people having hygiene problems but — touch wood — we haven't had that. Early on we were PCR testing [for Brett] like crazy but I'm much more confident in our systems now," he said. To the concrete results, Sandro Mosele now has more experience with it than most people in Australia and also sees differences in fermentation kinetics compared to stainless steel.
"The temperature curve is flatter and the cap sits up higher. For example, if we start at, say 9oC, it takes a long time to warm up. Then, when you look at the way the cap behaves, you can stay on skins longer and keep fresher. I reckon 25 days in concrete is equivalent to about 12 days in stainless," said Mosele.
To the effect on the wines, he says there is better texture and a depth in the mid palate that he hasn't seen with stainless, plus a different style of flavour.
"I describe it as though you have better fruit depth but less fruit sweetness — if you like, less strawberry sweetness but more strawberry flavour," Mosele added.
For independent endorsement, investment speaks louder than words. "Put it this way, of all the wineries who have tried them across Australia and New Zealand, almost all of them have ordered more," he said.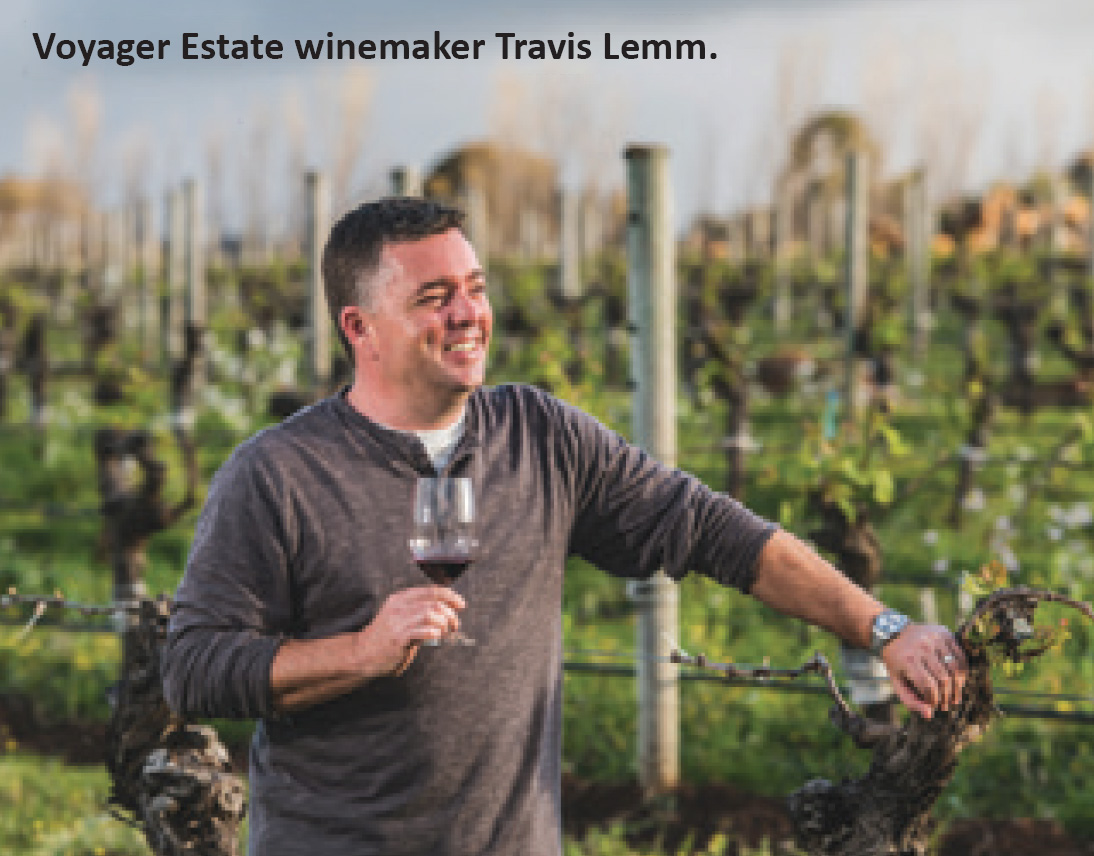 Travis Lemm's observations on concrete tanks have been similar but he has also done some interesting work exploring the separate roles of shape and material.
"We're getting a more savoury effect, maybe with less primary fruit initially. In the first year we did rosé, Chardonnay and Merlot in it and they all had this same savoury edge," Lemm noted. To test whether this was due to shape or material he had a stainless steel copy of the the Nico Velo Eiffel made. "From there we learned that the shape is very important — we think there is more purity of fruit in that shape. It's also important in whites, I think because of the fat shape at the bottom. There's greater surface area interaction with lees, but I wouldn't want a winery full of them," Lemm added. He has also been able to compare the same fruit across concrete and stainless Eiffel shapes, and conventional stainless steel open fermentors. "We like them all but they're just different. If we were going to do a single vineyard release and prepare the blend tomorrow we would probably use the open [fermentor] but the other two will still suit other blends nicely," he said.
WHERE TO NOW?
As with so many things in the world of wine, when it comes to selecting vessel types there is always more to it than meets the eye. In this case, we are not talking about banks of commercial sweeping arm fermentors. Instead, these are for making probably the most expensive 5-10% of wines on the market. Therefore, in terms of investment we must first ensure the viticulture is first class and no fermentor, tank, vat or egg on the market can possibly make up for compromises in the field, such as skipping a pass of shoot thinning.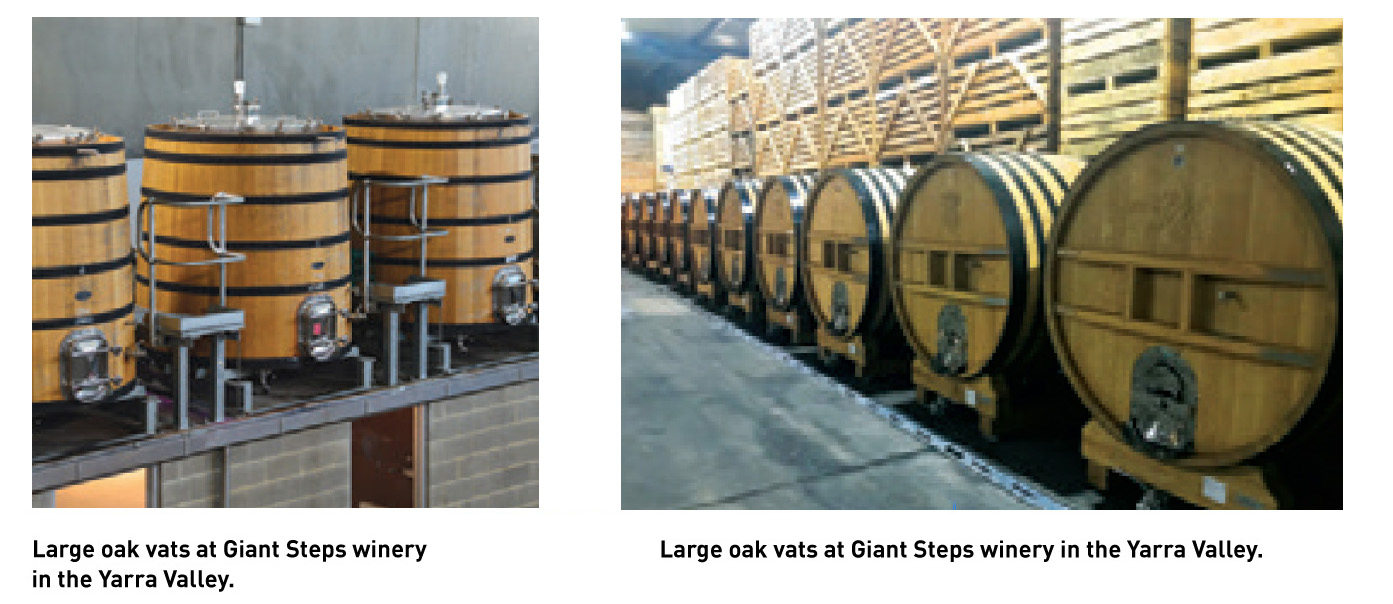 The choice of shape, type, size and material is yet another winemaking input that can incrementally finesse texture or steer wine style. Whether or not the non-conventional options make financial sense can only be answered by the investors. Leveraging their attractiveness by improving the winery visitor experience is eminenty sensible. And while seeking spiritual fulfilment by making bad wine in unusual vessels still attracts some folks, personally, I'll take Arras or Yabby Lake Pinot with Miles Davis on vinyl any day.