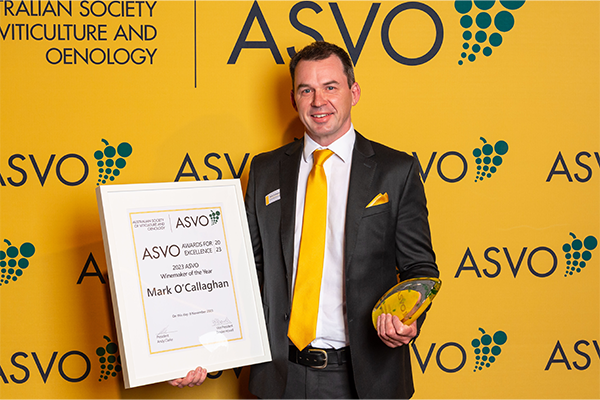 Photo: John Krüger
Mark O'Callaghan awarded Winemaker of the Year at the 2023 Australian Society of Viticulture and Oenology's (ASVO) Awards for Excellence.
The award was presented to Mark at the annual awards dinner on Wednesday night, at the National Wine Centre in Adelaide by Dr Vanessa Stockdale. The judging panel were unanimous in their choice, recognising Mark as an exceptional communicator and educator, though the award came as a surprise to him, "When you're in a community with exemplars like previous winners Sarah Crowe and Ed Carr, it never even crossed my mind that I would be on the radar for Winemaker of the Year. I thought it must have been an email scammer when ASVO first contacted me. I occupy a different space in winemaking and some of the best work we do, no one ever knows about."
In his role as Managing Director and Senior Consultant at WNC, Mark is focused on providing wine businesses with the advice and guidance they need to enable them to reach their goals. This work also provides a unique insight into the wine industry, which is often the catalyst for Mark to extend WNC's services and to actively share the knowledge he has gained with his industry peers.
"Throughout my career I've often felt like I'm the beneficiary of centuries worth of experience. We're all a part of our predecessors who had to learn things the hard way. I had great mentors who were generous in sharing their knowledge and looked after me as I found my way," Mark said in his acceptance speech. "I like to think that I have a responsibility to pay that forward, to help out, nurture, teach and coach those coming through, where I can."
ASVO President, Andy Clarke, congratulated this year's winners on their success and contribution to the industry, "The 2023 ASVO Award winners demonstrate outstanding professional excellence and are recognised for the significant contribution they make to the wine industry. They do this by developing new knowledge, inspiring the next generation, and fostering an environment where excellence prevails."
These attributes are consistent with Mark's overall methodology, "The ASVO's values – integrity, knowledge, innovation and communication – align with the ways in which our whole team approaches things. Our focus in on driving continuous improvement and excellence."
"The wine industry has been very good to me, enabling me to live an interesting life," said Mark.